VEHICLE SERVICING AND MAINTENANCE
Find car maintenance services near you at the best quality price.
Point S services:
All aspects of vehicle servicing are performed to the manufactures specification.
Full Service, Interim Service, Tyre safety checks and replacement, Wheel Alignment, Oil and Filter change, Battery.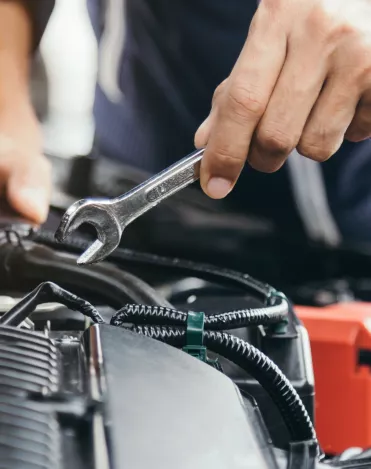 Rich text
As vehicle maintenance and tyre experts, we will be able to offer you all the services you need for your car: Tyre repair and replacements, Wheel alignment and balancing, oil and filter change, Battery testing and replacement, Air Conditioning servicing, Shock Absorber testing and replacement, Exhaust system checks and replacement. Point S offers so many more to help you get back on the road safely. Contact your nearest Point S approved garage for more assistance.
Point S offers you a whole range of tyre services : tyre replacement, alignment, balancing or pressure checking. We also offer our customers all vehicles maintenance services and car service operations with a full range of services. For more information, check out the tyre services and vehicle maintenance services sections below.
Discover all our services
Auto services and car maintenance
Rich text
WHAT IS A VEHICLE SERVICE?
A vehicle service involves a qualified technician performing safety inspections and the replacement of oils and filters where applicable.
Electric Vehicles require specific inspections.
Regular maintenance on a vehicle ensures maximum safety is maintained and limits the risk of an unexpected breakdown.
WHEN IS A SERVICE REQUIRED?
Service intervals are set by each vehicle manufacturer. Modern vehicles will display a message in the instrument cluster giving the driver information about when a service is due. This information allows you plenty of time to book your car into your nearest Point S approved garage.
Service information can be found in the vehicle owner's handbook. All Point S approved garages have access to each vehicle manufacturer's service information.
After a service has been performed the vehicle service book will be stamped, recording the mileage and date this had been completed. Keeping the service record and receipts is important to maintain the highest value of a vehicle. A vehicle with a service history is worth a considerable amount more than a vehicle with no, or partial service history.
Many new vehicles do not have a physical service book in the vehicle. In replacement of a physical service book, manufacturers hold an online service record.
For new vehicles, it is imperative for all servicing to be performed within the timeframe or mileage limits set by the manufacturer. Any warranty provided by a vehicle manufacturer will be void if proof of service history cannot be provided. This is also the same for vehicles that have an independent warranty attached which is outside of a warranty provided by manufacturers.
What maintenance must a driver perform?
Weekly checks to be performed:
Check the engine oil level via the engine oil dipstick or via the instrument cluster if applicable. An engine oil dipstick has markings for the minimum and maximum allowable levels.
CAUTION: Do not overfill the engine with oil. Engine damage can occur from overfilling an engine with oil.
CAUTION: Do not allow the engine oil level to drop below the minimum level. Engine damage can occur from an engine that does not have enough oil.
Check the engine coolant level
CAUTION: The coolant expansion tank cap must only be removed when the engine is cold. Removing a coolant expansion tank cap when the engine is warm can cause serious burn injuries. Seek advice from your local Point S approved garage if you are at all unsure.
Tyre pressures (Tyre pressure information can be found in the vehicle owners handbook).
Top up washer fluid.
Daily vehicle checks:
Visually check the condition of the vehicle's tyres including the tread depth. The legal limit for tread depth is 1.6mm in the UK. If you are unsure of the amount of tread remaining, please contact your local Point S approved garage.
Check all the vehicle's lights.