How To take care about your car ?
Regular servicing of your car can help extend the lifespan of your vehicle and keep it running safely and efficiently. This routine maintenance significantly reduces your risk of breakdowns and can help identify any minor issues before they become more significant. A relatively small investment now can avoid a major unexpected expense later. A full service history can also add significantly to your car's value.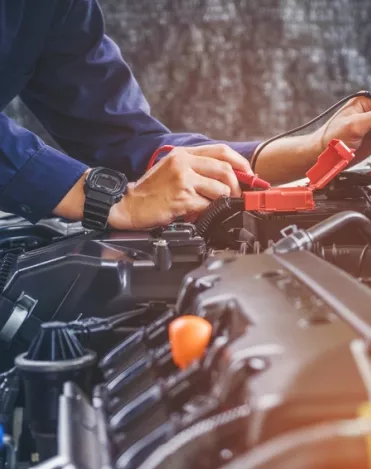 Rich text
Routine maintenance to keep your car in top condition
Normally a Full Service should be carried out once a year or every 12,000 miles. You may also wish to compliment this with an Interim Service every 6,000 miles or every 6 months (whichever occurs first) which checks the most vital and safety critical elements of your car. Some manufacturers also recommend an even more thorough Master Service to be scheduled every 24 months. Point S can help you with all these requirements and offer you impartial advice as to the most relevant service for you!
If your car is suddenly experiencing unusual noises or something just doesn't feel right, this can also be a good time to book your car in for a service. Early identification of issues can help avoid much more damaging problems developing. If you are about to embark on a long journey, a service can also help to avoid unwanted dramas and provide reassurance that your car is ready for the trip.
Most common items in your Point S service
Below are the most common items included in your Point S service. The exact service schedule will be dependent on the age, mileage, and model of your specific car:
Engine:
Drain engine oil
Replace oil filter
Refill with new oil
Replace air filter
Replace air filter
Check and advise any oil leaks
Check and advise any oil leaks
Check radiator and coolant hoses
Braking:
Visual check of brake pads for wear
Visual check of brake discs for wear
Visual check of brake pipes and hoses
Visual check of brake hydraulics
Check and top up brake fluid
Check operation of hand brake / parking brake
Wheels and Tyres:
Remove and refit all road wheels
Check tyre condition
Check tyre pressure (and adjust if required)
Check and advise tyre depth and wear pattern
Check wheel bearings
Steering and Suspension:
Check condition of road springs
Check condition of shock absorbers and mountings
Check and top up power steering fluid
Check power steering system
Check condition of steering rack and rubber gaiters
Check suspension joints
Exhaust:
Visual check of exhaust system and mountings
Drive System:
Check driveshaft joints and rubber gaiters
Check clutch operation
Check and top up transmission fluid
Vision and Lighting:
Check operation of all external lights
Check operation of wash / wipe system
Check and advise condition of wiper blades
Check and top up windscreen washer fluid
Internal:
Check safe operation of seat belts
Check instrument panel lighting and warnings
Check operation of switches and controls
Check horn
Check interior lighting
Final Checks:
Reset service interval and warning indicator
Stamp service book
Check out our expert tips about vehicle maintenance and car tyres for a no-stress life