Tractor & Agricultural tyre services: repair, fitting, pressure
Are you looking for an agricultural tyre specialist for your tractor? At Point S, we take care of all tyres whatever the type of vehicle! Our network has developed a real dynamic brand on the agricultural machinery tyre market, Point S's expertise being recognised today by the entire agricultural sector. We provide your vehicle with all types of services such as adjustment, pressure, repair, geometry and much more !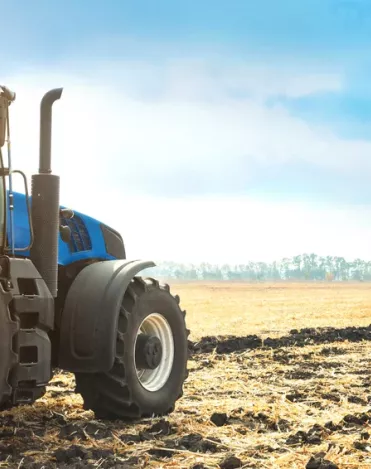 Rich text
Agricultural vehicle tyre services
Our specialists will provide you with all their experience in order to find the most suitable agricultural tires for your operating conditions. Moreover, since we know that ensuring an optimal margin matters for your business, we will offer our tyres and services at the best price-quality ratio. With our wide choice of major brands for agricultural machinery, we will always find a solution adapted to your technical constraints and your budget.
Your Point S centre will be able to offer you a complete range of agricultural tyre services directly in store:
Agricultural tyres mounting and assembling
Repair and maintenance

Water ballasting
Or directly in your farm for the following services:
Technical advice and pressure on agricultural tyres
Wear control

Mounting tyres on site
Depending on the type of use, your Point S centre will propose the necessary modifications in iron equipment (twinning, narrow tyres, etc.) in order to adapt to the specificities of each crop and each category of work (ploughing, processing, sowing).
Tractors and agricultural tyre alignment services
Agricultural Tyres alignment is key for your activity and will provide you the following benefits: 
Lower fuel consumption
Better course keeping (safety)
Less vibration on the road (comfort)
Less mechanical wear
Preservation of tyre capital
In the case your tyres have a not well alignment, the consequences can be very negatives! Take the example of an agricultural work that is 50% of road. Imagine that one of his tractors rolls with a pinch of 15 mm. This disruption causes a decrease of tyres lifetime of 36%, which represents for a pair of tyres worth 2,500 euros, a loss of 800 euros.
Whatever your agricultural vehicle, Point S has the solution for your tyres!
Our specialist can provide their services for many agricultural vehicles categories:
Tractors
Handling
Quad
Utility
Twinning equipment
Check out our expert tips about vehicle maintenance and car tyres for a no-stress life