Become a Point S member
Join the largest independent tyre retailer and car maintenance network in the world, Point S.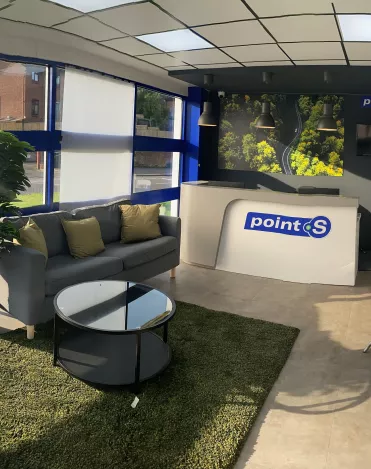 Rich text
By joining the Point S network, you will benefit of the advantages of being part of an international company. The international headquarters, Point S Development, was established in 2006 in Lyon, France. After consolidating a very strong network in Europe, Point S has extended to the North American continent and established a North American headquarters in 2015 in Boston, Massachusetts to coordinate the activities of Point S North America.
Our missions
Point S Development is in charge of several missions for the network:
Developing the network worldwide
Negotiating agreements of international cooperation with the different suppliers
Negotiating with international key account customers
Creating and developing the range of Point S private label products
Creating and implementing some marketing and communication support to support the countries in their own strategies
Implementing and monitoring common quality standards in terms of retail operations and services
Ordering and managing market surveys in order to keep an accurate vision of the different market trends and anticipate the future evolutions of the market
Developing new IT solutions in B2B & B2C and information systems
Coordinating policies of the different Point S countries and helping the national headquarters sharing their best practices.
Our values
Our strength is to keep a human dimension despite our international presence, by following the core values which have been key to our success:
An ambitious and passionate spirit
A sharing of best practices
A follow-up of the latest innovations and teams trained accordingly
A customer-orientated philosophy with the highest quality standards.
Our vision: independent tyre retailers and team spirit
We strongly believe that independent tyre retailers can only survive and remain profitable by teaming up together because together we are stronger! We work hard to build a strong network in which every member benefits from global synergies.
The success of the Point S business model is the result of our ability to achieve the right balance between the independence of our retailers and the interest of the whole group.
Interested?
Contact Vinod Kumar Jathanna
Email: vinod.jathanna@points-development.com
Contact number: +91 92890 53197
Or fill in the form below.