Point S in India
Point S entered the Indian market in 2017. Today, after a successful assessment period, Point S has ambitious plans for the market and is willing to extend its presence all over the country. We are looking for franchise partners interested in developing the Point S concept in their region or State.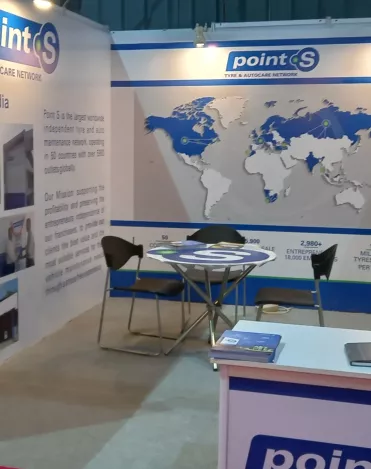 Rich text
Our philosophy
The success of the Point S business model is the result of our ability to achieve the right balance between the independence of our dealers and their adherence to our common national and international network brand policy. Despite the international nature of our company, we have always maintained a human dimension based on the following common values that have contributed to our success:
Entrepreneurial spirit and passion
A common and long experience shared by all national Point S managers through our International Committee
Close contact with our members - some of whom have been elected and are involved on our boards
The culture of the customer focus with the highest standards in terms of quality of service, staff motivation and training
Our values
Joining the Point S network means entering a world where values are important and the group is a common heritage of professionalism.
Experience and strong specialization
High standard of services offered
Large range of products
Balance between the independence of our dealers and their joint membership to our national and international trademark policy
Our offering
Join the largest independent tyre dealer network in the world and you will benefit from the following advantages:
An international strong brand with 50 years history;
Support in negotiations with suppliers;
Access to new brands;
Sourcing support for products from China;
Access to non-tyre products such as lubricants or batteries;
Concept and network development know-how;
Technical and commercial training;
Marketing and IT support;
Experience and information sharing with 50 countries in the world…
The Point S network
With more than 6100 points of sale in 51 countries, Point S is the largest independent tyre dealer and car maintenance network in the world. Established in Inda, we aim to keep spreading our expertise in the tyre and car maintenance service business.
Our experts are trained in new technologies on a regular basis to provide our customers the best quality service. Our corporate culture is based on innovation, knowledge, integrity and a passion of the trade. Point S also develops activities and services for the agricultural and industrial sectors.
Our members are independent entrepreneurs, which reinforces their respective autonomy while Point S provides them security of a solid structure. Learn more about our network in India and our presence worldwide to discover all the advantages of joining our network.
Our Master Franchises
RAJ Motors
Point S Development now having its subsidiary in India Point S India Pvt Ltd, is happy to announce M/s Raj Motors as the Master Franchisee for Karnataka.
Started by K Raj Gopal in 1952 , Raj Auto and Diesel services now know as Raj Motors Is  in the automobile industry for more than "SIX DECADES" , Raj motors has been in Automobile servicing to "Laureates" of Mysore, Royal Families, well know personalities and professionals in Mysore in their automotive requirement,
Raj Motors has its one Point S Retail outlet, and will be expanding in Karnataka with Independent franchises for Points S, according to the Raj Motors Point S, is the only company in India and in automotive having premium brands, Point S believes in independent network, training in sales and technical to staff, competitive price, and hence the better customer experience, with satisfied customer.
So NO STRESS WITH POINT S.