AIR CONDITIONING
Air Conditioning (A/C) improves comfort and safety by providing a cool environment. Other benefits are dehumidifying and cleaning the cabin air. At Point S, many of our experts are qualified for working on A/C systems including servicing, diagnosis, and repair.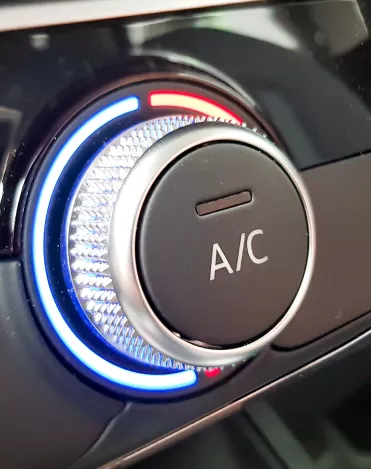 Rich text
Read more about A/C systems and how to detect an issue.
Visit your nearest Point S centre with any questions.
HOW DOES AN AIR CONDITIONING SYSTEM WORK?
Refrigerant is circulated around a circuit at high pressure. This circulation and pressure are produced by a compressor. As the refrigerant circulates around the circuit it passes through many components which in effect change the state of the refrigerant from a gas to a liquid and vice versa. This change in the state of the refrigerant absorbs and releases heat at specific points of the circuit.
This heat transfer is how an A/C system works. Upon request, the vehicle occupants can have a cool environment. The A/C system has other benefits other than a cool environment. A/C cleans and dehumidifies the cabin air resulting in many health benefits. An additional benefit of A/C is to demist the windscreen in certain weather conditions.
REFRIGERANT LEGISLATION
A vehicle's Air Conditioning (A/C) system is complex and must only be maintained by qualified personnel. Refrigerant is used within an A/C circuit which operates under high pressures.
Regulations have been in place in the UK since July 2010, meaning it is illegal to release A/C refrigerant deliberately into the atmosphere.
Point S approved garages have technicians with qualifications that legally enable specific work to be performed e.g. Servicing the A/C circuit.
SIGNS THAT YOUR AIR CONDITIONING SYSTEM REQUIRES ATTENTION
CABIN AIR WARM WHEN REQUESTING COLD:
If cold air is not available when requested with the A/C selected and the vehicle operational the refrigerant quantity may be low. Refrigerant does diminish from an A/C circuit over time; therefore, it is inevitable at some stage a vehicle will require an A/C service.
An approved Point S garage can investigate and offers A/C servicing.
BAD SMELL IN CABIN:
On occasion depending on weather and operating conditions bacteria can build up on a component within the cabin called an evaporator. This build-up of bacteria can cause an unpleasant smell. An approved Point S garage can investigate and perform a service to eliminate these unpleasant bacteria.
WINDSCREEN NOT DEMISTING:
If you select the A/C directing the airflow onto the windscreen of the vehicle and the windscreen does not demist, this indicates the refrigerant is most likely at a low level. The A/C system would require investigation and a service which can be provided by a Point S approved garage.
THE CABIN HEATER/COOLING FAN HAS LIMITED POWER:
Vehicles are fitted with pollen filters which filter the air entering the cabin. If this filter is blocked the airflow will be restricted.
Approved Point S garages can investigate and replace any blocked pollen filters.
WHEN SHOULD YOU CHECK YOUR AIR CONDITIONING?
A/C operation should be regularly observed by the driver of the vehicle. In the colder months, this observation could be checked by the efficiency of demisting the windscreen of the vehicle. In warmer months the A/C observation could be by the efficiency of cooling the cabin environment.
The general guidance for servicing an A/C system is every 2 years.
A Point S approved garage can perform A/C servicing.
An A/C service involves the removal of refrigerant, a system leak check, and replenishing the circuit with clean refrigerant. The pollen filter is checked, and replacement recommendations are given if required.
Note: Pollen filter replacements are part of a vehicle service.
Concerned about the performance of your A/C system? Make an appointment or visit your local Approved Point S Garage
Check out our expert tips about vehicle maintenance and car tyres for a no-stress life