Oil and Filter change services for all vehicles
An Engine Oil and Filter change is an operation that consists of removing the engine oil filter and used oil from the engine of your vehicle and replacing it with a new filter and new oil.
To avoid premature wear of engine components, we advise you to keep your engine serviced in line with the manufactures guidance.
Caution: There are many different grades of engine oil. When replenishing or topping up your engine with oil it is imperative that the correct grade of oil is used.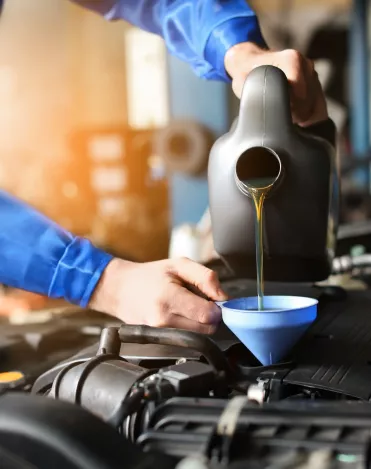 Rich text
Oil and Filter service by Point S
Performing an oil and filter change by your own is now more complicated. The essential components are difficult to access. As car maintenance specialists, our teams are authorised to perform the oil and filter change on cars.
Engine Oil and Filter replacement schedules differ depending on make, model, and whether the engine is a Petrol or a Diesel.
Contact your Point S approved garage and get in touch with our experts.
Changing Engine Oil and Filter: Why is it important?
Having a car means maintaining it to drive safely but also to keep it as long as possible. This operation is clearly a basic of vehicle care and maintenance. Only pure electric cars do not require engine oil and filter change. It ensures the good function of your engine, prevents wear, and helps reduce fuel consumption. An oil change on a regular basis will:
Prevent metal friction of parts and components
Maintain good compression of the engine
Prevent premature wear of internal engine components
Extend the life of an engine
Maintain emission levels
How often should you change your Engine Oil and Filter?
Service interval times vary with each manufacturer depending on the engine type. For example, some intervals are every 10000 Miles or 1 Year.
CAUTION: Above is an example of a service interval schedule. Manufacture guidance must always be followed for each specific vehicle.
Point S, is the place to change the oil of your vehicle! For more information, make an appointment or visit your Point S centre!
Check out our expert tips about vehicle maintenance and car tyres for a no-stress life