How to choose the right tyres for your car: our buyer's guide
Choosing the right tyres affect your car's performance, but it can also impact your safety on the road. With so many different tyre brands and types available in the market, it can be difficult to know which ones are best for your car. In this guide, we will provide you with the information you need to make an informed decision and choose the best tyres for your car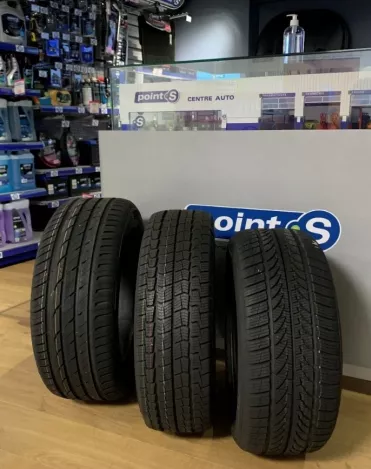 Rich text
What type of tyres do I need for my car?
Depending on the season, the climate and the area where you live, you'll need different types of tyres. Three main types can be found on the market: summer tyres, all-season tyres and winter tyres. Some additional features are also available on selected ranges. Follow the guide to understand their differences!
Summer tyres
Summer tyres are the ideal option for drivers looking for maximum grip and performance in warm, dry conditions. They are great for cornering and braking and are the best choice for drivers who want maximum performance from their vehicle. Also, with a tread pattern designed to disperse water quickly and reduce the risk of aquaplaning, summer tyres provide excellent grip and handling.
Summer tyres provide superior grip and handling in warm weather conditions and are designed to perform optimally in temperatures above 7 degrees Celsius. They also provide excellent traction on dry and wet roads, allowing you to drive safely in all kinds of weather.
All-season tyres
All-Season tyres (also called 4 season tyres) are designed to provide a good balance of performance in all types of weather conditions. They offer a reasonable level of grip in wet and dry conditions, as well as good resistance to aquaplaning.
All-Season tyres are a great choice for those looking for an all-round tyre for their car. The main advantage of all-season tyres is that you don't need to switch from summer tyres to winter tyres when the winter season comes, you are able drive your vehicle all year long with all-season tyres. However, if you live in areas where temperature frequently go below 7°C or with a snowy climate, winter tyres are more suitable.
Winter tyres
Winter tyres are designed to provide optimal performance in cold weather conditions, providing improved grip and stability on wet and icy roads. They also feature a deeper tread pattern and a unique rubber compound that helps reduce the risk of aquaplaning, making them a great option for winter driving. Winter tyres are best suited for temperatures below 7°C. 
Run flat tyres
Run flat tyres are a great option for drivers who want the safety and convenience of being able to drive even if a tyre becomes punctured. Run flat tyres have reinforced sidewalls that can support the weight of the vehicle even when there is little or no air pressure in the tyre. This means that if a tyre becomes punctured, you can still drive on it for around 50 miles at a maximum speed of 50 mph, allowing you to get to a place of safety. This safety feature is mainly offered by premium tyre brands such as Michelin, Bridgestone, Continental or Goodyear. 
Reinforced tyres (XL)
Reinforced tyres, also known as XL tyres, are designed to provide extra protection against punctures and road hazards. They are made with a thicker and stronger sidewall construction, making them the best tyres for cars that regularly travel on rough roads. XL tyres also offer improved grip, handling, and stability.
What are the different ranges of tyres on the market?
When it comes to choosing the right new tyres for your car, it's important to consider your budget. There are a wide range of tyres available on the market and knowing what your budget is can help you narrow down your options and choose the best tyres for your car that are within your budget. Three main ranges are offered on the market: premium tyres, mid-range tyres and budget tyres. According to your budget and your driving habits, you'll find the best tyres available!
Premium tyres
Premium tyres are the best option for drivers who want the highest quality and maximum performance from their cars. Premium tyres offer superior grip, a smoother ride, and better fuel efficiency, as well as superior durability and reliability. Goodyear, Apollo, Michelin, and  are premium brands manufacturers. 
Mid-range tyres
Mid-range tyres offer a good balance between performance and affordability. They provide a comfortable ride, good grip on wet and dry roads, and good fuel economy. Mid-range tyres are also often backed by good warranties, so you can rest assured that they will last for a long time. 
Budget tyres
Budget tyres are a cost-effective option that offer good performance without breaking the bank. They are usually made from lower grade rubber compounds but offer a good balance between price and performance. They may be a good solution if you don't drive a lot. 
Is the tyre brand important?
When it comes to choosing the best tyres for your car, the brand is an important factor to consider. Different tyre brands offer different levels of performance, safety, and durability, so it's important to choose a tyre brand that matches your needs and budget. The right tyre brand can make a big difference in the quality and performance of your tyres.
Choosing a tyre brand depends on your budget and driving habits. If you target premium brands such as Michelin, Goodyear or Pirelli, the budget you'll spend won't be the same as for budget tyres. They will not provide the same performances and they don't answer to the same needs. This is why considering what brand to buy a key element to take into account when choosing the best tyres for your car.
What should I consider when buying tyres?
When looking for the best tyres for your car, there are several factors to consider. Firstly, it is important to consider the type of car and the driving conditions. The type of car will determine the size, load capacity and speed rating of the tyres. Secondly, it is important to consider the terrain and climate of the area in which the car is driven. Different tyres are designed for different terrains and climates, so it is important to select the appropriate tyres for the specific terrain and climate. Finally, it is important to consider the quality and durability of the tyres.
Weather conditions and terrain in my area
When buying tyres, we recommend you to consider the weather conditions and terrain in your area. 
If you live in a region with cold weather (temperatures below 7°C), frequent snowfall and icy roads, you may want to invest in winter tyres or all-season tyres that are designed to handle icy roads. If you live in an area with a lot of dirt roads, you may want to invest in tyres that are designed for off-road driving, especially if you drive an SUV or a 4x4 truck for instance.
On the other hand, if you live an urban aera with moderate or high temperatures, summer tyres are the best choice. They are made for temperate weather conditions and work best with temperatures above 7°C. 
Fuel economy
Another factor to consider when buying your tyres is fuel economy. If you're looking for tyres that help reduce your fuel consumption, then you'll need to check one key factor: the rolling resistance.
What is tyre resistance?
When it comes to tyres, the most important factor for fuel economy is the rolling resistance. Rolling resistance is the measure of the force required to keep a tyre rolling at a constant speed. It is also known as the coefficient of rolling resistance.
How does tyres rolling resistance help save fuel? 
As the rolling resistance represents the force needed to make a tyre spin, there's a simple rule: the lower the rolling resistance, the less energy is required to keep the car moving, which can result in improved fuel economy. If you require tyre that help reduce you fuel bill, then we advise you to look for tyres with a low rolling resistance rating, as this will help you save money on fuel costs in the long run.
This is why tyres with a lower rolling resistance will help you get better fuel economy, saving you money at the pump. Look for tyres with the 'A' grade fuel efficiency label to get the best performance for your car.
What tyre size should I buy for my car?
The size of the tyre is determined by the dimensions of the tyre's sidewall, which is expressed as a series of numbers and letters. We strongly recommend buying the correct size of tyre for your car, as tyres that are too small or too large may not provide the desired performance and handling. The size of your tyres will depend on the tyre of car your drive. This is why you should be aware of the size that fits your car. If you don't know how to read your tyre size, here are some handful tips!
Understanding tyre sizes
Tyre sizes are composed of a series of numbers and letters that indicate the size, width, aspect ratio, construction, diameter, load index and speed rating of the tyre. By understanding the tyre size, you can determine which tyres are best suited for your car.
Let's take an example: a 205/55 R16 91 V tyre. What all these figures mean:
205: the width of the tyres measures in millimeters (mm)
55: height computed as a percentage ratio between the tyre's width and height
R: the tyre's type (R stand for radial). 
16: rim's size in inches
91: the load index. The number corresponds to the maximum weight one tyre can handle.
V: the speed rating index. The letter corresponds to a maximum speed the tyres can handle (see table below).
Speed rating table :
| | | | | | |
| --- | --- | --- | --- | --- | --- |
| Speed rating | MPH | Km/h | Speed rating | MPH | Km/h |
| A1 | 3 | 5 | K | 68 | 110 |
| A2 | 6 | 10 | L | 75 | 120 |
| A3 | 9 | 15 | M | 81 | 130 |
| A4 | 12 | 20 | N | 87 | 140 |
| A5 | 16 | 25 | P | 93 | 150 |
| A6 | 19 | 30 | Q | 100 | 160 |
| A7 | 22 | 35 | R | 106 | 170 |
| A8 | 25 | 40 | S | 112 | 180 |
| B | 31 | 50 | T | 118 | 190 |
| C | 37 | 60 | U | 124 | 200 |
| D | 40 | 65 | H | 130 | 210 |
| E | 43 | 70 | V | 149 | 240 |
| F | 50 | 80 | W | 168 | 270 |
| G | 56 | 90 | Y | 186 | 300 |
| J | 62 | 100 | (Y) | 186+ | 300+ |
What tyre size should I choose for my car ?
The optimal size of tyre for your car will depend on the model and make of your car. Indeed, if you're driving a hatchback, it will not require the same tyre size as a SUV. Each model has compatible tyres dimensions. If you need to find the compatible dimensions with your vehicle, you can refer to its handbook. 
Also, the size of the wheel rims will determine the tyre dimension. If your car is equipped with 17" rims, then you'll need to buy tyres containing R17 in their dimensions.
The type of driving you do can also be a factor to consider when choosing tyres. For instance, if you regularly set off on long journeys then you'll need tyres with softer compound to drive with more comfort. On the opposite, if you drive a powerful car, then you may need high performance tyres with higher grip capacities and lower tyre height.
Find the best tyre shop for your Car in India
Your local Point S tyre expert will help you choose the right tyres for your car at the best price! We offer a wide range of premium, mid-range and budget tyres for all driving needs. Find your nearest Point S branch now to get more information and advice for your new tyres. No stress with Point S!