Motorcycle tyres shops and maintenance
Tyres are one of the most important elements for the safety of two-wheelers, and are a major element in getting a better driving experience. At Point S, we are tyre experts for all vehicles, including two-wheelers such as motorcycles and scooters. From assembly to maintenance and repair, we offer all the necessary services to ensure that your tyres last as long as possible!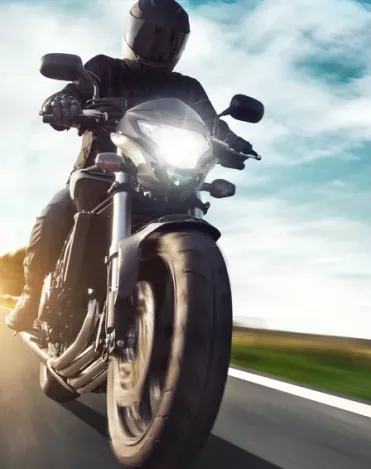 Rich text
Services for tyres and motorcycle maintenance
Old or damaged motorcycle tyres will of course be less safe and will provide you with fewer sensations and fewer opportunities to feel the different aspects of the road while driving.
At Point S, we do not only take care of passenger tyres. We are also experts in tyres for all vehicles, including motorcycles. Here are some of the services we can offer for your motorcycle:
Tyre pressure
Wheel alignment
Tyre balancing
Oil change
Braking system maintenance
And many other!
Motorcycle tyres repair
A puncture always happens at the worst possible time! Although there are tool kits available to temporarily repair your motorcycle, it is recommended to consult a tyre specialist to prevent the situation from getting worse. Your Point S technician will have two solutions: replace or repair your motorcycle tyre. If the tyre is not too damaged, he should be able to repair it instead of replacing it.
Motorcycle tyres pressure
Motorcycle tyres naturally deflate as they are used beacause of many factors: type of driving, junction between the tyre and the rim..... In order to keep your motorcycle tyres in good condition as long as possible, you must always make sure that the pressure is correct. Point S recommends that you carry out a quick check once a week, because in addition to the impact on tyre wear, poor pressure can have a direct impact on driver safety!
When to change your motorcycle tyres?
Point S gives you some tips on when to replace the tyres on your two-wheeler. If you notice any of these signs, don't wait to contact your nearest Point S centre!
It is important to regularly monitor the wear mark (TWI) on the sidewall of the tyre, which is represented by a triangular arrow indicating the maximum level of wear after which the tyre must be replaced. As soon as the curved surface of the tyre reaches the TWI mark, it is time to replace it.
Feel free to check if the tyre has irregular tread wear. If you notice tyre wear or deformation of the front tyre, do not wait to replace it: this could lead to handling and stability problems.
It is essential to check and maintain your suspensions properly. Incorrect suspension configuration can lead to an early tyre-replacement.
Too many cuts in your motorcycle tyre is also a sign that you should replace it as soon as possible because a tyre in such a deteriorated condition can no longer be used. The surface of the tyre in contact with the road becomes uneven, which further deteriorates the quality and performance of your motorcycle.
Finally, the tyre has a maximum life span. Ideally, a tyre should not be used after five years. This can be explained by the hardening effect when oils evaporate from the rubber over time. You can find a four-digit number on the side of your tyre that will inform you of the date when it was manufactured: the first two digits correspond to the week's number and the last two ones to its year of manufacture.
Check out our expert tips about vehicle maintenance and car tyres for a no-stress life