Road accident prevention: Point S and road safety
At Point S, we take care of your vehicle all year round. The care we take in our services is above all to ensure that your vehicle is in perfect condition for you to use on the roads. Nevertheless, a healthy vehicle is not enough to protect you, and, in this article, we would like to remind you of some essential points of road safety.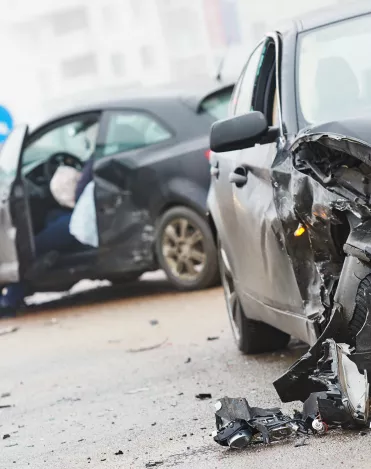 Rich text
A special context
In 2020, the incidence rate on the roads has dropped drastically, largely due to the ubiquitous virus that has frozen our world and caused a drop in road traffic. To avoid a return to the figures of previous years and to continue this healthy trend, it is worth remembering some basic rules that can save your life.
The right behaviour to adopt!
Favour a perfect driving position.
To be able to control your vehicle perfectly, you should adopt a good driving position. As a reminder, a good driving position is one that allows you to reach the steering wheel and the pedals naturally and comfortably; a position that is too far away or too close will disturb your concentration. Also, never neglect the adjustment of your mirrors when driving, you must be able to react quickly.
Maintain your vehicle regularly.
Imperfections in your vehicle can be the cause of many accidents. Whether it is a tyre, a bodywork part, or an engine problem, it's important to prevent this from happening, so take care of your car regularly.
Respect safety distances.
Safety distances are precise, they will keep you alive in case of a road accident. If you follow a vehicle too closely, your reaction time will be reduced, so always maintain a minimum distance of 3 seconds from the vehicle in front.
Be careful at night and when it's raining!
At night, many sources of danger are combined including lack of visibility and increased fatigue. This is also the time when you are most likely to come across a driver under the influence of alcohol, so you must be extra vigilant and do not hesitate to stop and take a break. Also, under rain or other bad weather conditions, your vehicle will lose handling and grip, but that will be the subject of one of our next articles on the site!
Know your vehicle, especially the blind spots.
Blind spots are natural defects that are present on every vehicle, they represent a window of danger that you must constantly pay attention to. Check them systematically when you change lanes or direction, whether on the motorway, on a country road or in town, as an accident can happen very quickly.
Some important reminders!
Speed limits save lives!
Did you know that a 1% increase in your speed on the road increases the severity of an accident by 3% and the death rate by 5%? * Since the massive deployment of speed limits, accidents have drastically decreased and so have their fatalities. Think about this before you push your vehicle beyond the limits of your body.
Alcohol is still a scourge on the road.
According to the WHO, drinking increases the risk of road accidents by a phenomenal amount. Decreased concentration, increased reaction time, difficulty in keeping on track, driving under alcohol have many consequences on your driving, which very often take on fatal proportions.
The seat belt: always your best friend in a car!
45 to 50%. That is how much the risk of death in the event of an incident is reduced thanks to the seat belt*. Today, together with the airbag, it is your greatest chance of survival in the car, so fasten it.
We hope this article has caught your attention, at Point S, road safety is central in our priorities and if you entrust us with your vehicle, we will always ensure that it is as reliable as possible for your safety.
For more advice, please feel free to read our other articles and make an appointment with our Point S experts.
*Source : WHO 2020