How to sanitize your car ?
In this time of pandemic, sanitation of the interior of the car becomes even more important because it is one of the methods of preventing the transmission of CoronaVirus. Find out how to apply these methods to stay safe.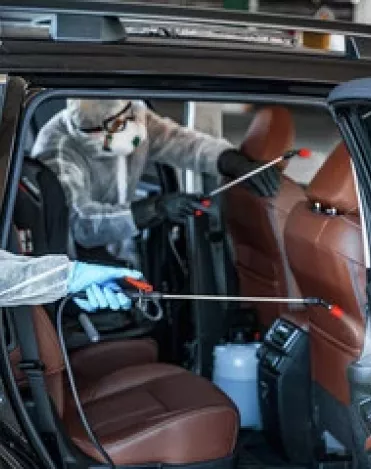 Rich text
Today, talking about sanitizing the interior of the car, becomes even more important because it is one of the methods of preventing the transmission of viruses and bacteria that are fundamental for the safety of people.
In the next few lines, we will see how and why it is important to carry out this operation taking advantage of car maintenance activities in winter.
WHY CLEAN THE CAR CABIN?
Car interior sanitation is not a new concept born in conjunction with the need for COVID-19 prevention but today it is becoming of fundamental importance and that is why we talk a lot about it.
Keeping the interior of your car sanitized is essential to prevent dangerous agents from proliferating in the vehicle.
The vehicle is in fact a small environment, where several people are present at the same time and a problem such as the transmission of viruses and bacteria can be encountered both by contact, simply by touching the surface of the vehicle, and by gas voice : air conditioning duct.
HOW TO SANITIZE THE CAR COCKPIT?
DO IT YOURSELF
Contact a professional to obtain adequate sanitation of the interior of the car is strongly recommended to have an access of a perfect execution of the service.
However, knowing how to keep your car clean is essential.
Special attention before you start, of course, must go to what to use to clean the machine.
Alcohol, for example, which is an excellent disinfectant, could permanently damage some of your car's surfaces, such as a leather steering wheel. Bleach could stain your seats, for these reasons it is advisable to purchase specific antibacterial detergents.
If you like the idea of ​​using natural products, you can try a mixture of water and white vinegar that will be enough to scrub the interior of your car with a microfiber cloth.
The method with natural products will not damage the skin or tissue, but it does not have the same disinfectant load as chemicals.
OZONE
Last year, we introduce the concept of sanitation using ozone machines.
It is important to specify that ozone is the most powerful natural disinfectant currently known, it easily reaches the most hidden points, eliminating up to 99.98% of impurities, viruses and bacteria.
The cleaning of the interior of the car with ozone is a service carried out by professionals, with suitable machines and with the necessary precautions to carry out the treatment safely.
The duration of ozone treatment can vary from 15 minutes to one hour as needed, a few minutes is enough to activate the anti-bacterial charge of ozone, it may take longer if you want to remove a particular bad smell.
PROFESSIONAL CHEMICALS
By going to your trusted workshop, you can find alternatives to ozone but which can be just as valid such as disinfectant sprays and cans with immediate release of antibacterial substances.
We advise you to go to your trusted Point S workshop and let us advise you on the treatment best suited to your needs.